Enfold Proxy
Make Plone faster when you set up Microsoft Internet Information Services (IIS) to handle a variety of tasks.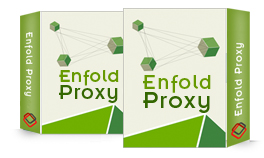 Key Features
Enfold
Proxy
-Limited-
$Free
Enfold
Proxy
-Full-
$495
Quickly set up IIS in front of Plone to serve images, style sheets,  browser scripts and Plone content.
Have IIS handle login requests, including automatic login using Windows single sign-on and SSL.
Manage proxying for multiple sites.

NEW

Supports XDV theming of Plone.
Transform XML documents into Web pages with XSLT processing.
Integrate Plone content with other Web applications, such as e-commerce or customer relationship management.
Quickly diagnose and fix errors with tools for configuration checking, cache checking and cache purging.

Cache

commonly used content to increase Plone performance up to 10x.


Use automatic cache purging to ensure visitors see the latest content.


Keep heavily trafficked sites running smoothly by adding servers,

Load Balancing

by distributing requests among them.


Guarantee you'll have access to an Enfold Proxy expert if you need support.


Protect business operations and productivity with fast severe-level response and an unlimited number of support incidents.


* Learn more about Enfold software pricing in the Pricing FAQ
Try Now
Enfold Proxy
30-day free trial
Enfold
Proxy
$495 per new license or $245 per renewal.
Testimonial
"I have never come across a product that was so easy to install and use as Enfold Proxy. And not only that, I literally had it installed and working within 2 minutes of purchase.
Thank you for building a product that does not only what it says it does and has an easy install, but is just a solid all around product!"
Michael Vollmer
Dir. Information Technology
University of Illinois, Chicago