World Plone Day 2008
World Plone Day is a worldwide event to promote and educate the worldwide public about of the benefits of using Plone in education, government, ngos, and in business. The event in the Texas area will be hosted by Enfold Systems and the University of Houston.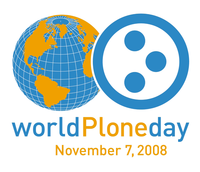 Surviving the global economic crisis:  Plone Open Source community fights back with collaboration.
Plone, an enterprise content management system solution, is one of the largest open source projects on the planet. The Plone community is organizing World Plone Day on November 7th.  This "follow the sun" event is a global initiative involving 20 countries around the world where Plone integration companies and developers will hold seminars, presentations and lectures covering the Plone technology and real world case studies.
From big business to Government agencies to non-profit organizations, no one is escaping the financial crisis engulfing the world economy.  As budgets are slashed, jobs are lost and projects are put on hold, IT managers are looking for solutions to achieve the same quality outcomes with innovative and cost effective solutions.   "The economic crisis is a catalyst for organizations to consider open source as an alternative to expensive propriety software," said Alan Runyan, Plone co-founder and Enfold Systems President. 
According to Runyan, open source technology is increasingly satisfying these needs, "Open source is all about a global pool of developers fixing bugs and enhancing the software based on their real world needs, not a marketing checklist."  More and more, business and Government are realizing the immense benefits of open source solutions which include small to no license fees, superior security, better quality and world wide support.