Plone Hosting: High-Availability Dedicated Servers
Enfold Systems provides a Plone hosting environment built exclusively for mission-critical websites. We partner with iland Internet Solutions to provide virtualized dedicated servers for a robust, scalable and "best-of breed" Plone hosting solution for our clients.
Maximum Flexibility.
Our high-availability hosted VMware solution was designed from the ground up to provide organizations with a cost-effective way to leverage virtualization technology for both production applications and disaster recovery efforts. This allows rapid deployment of new servers within hours instead of days; as well as, adding storage, RAM and other configuration changes in near real-time.
Maximum Availability.
Dedicated virtual servers run in VMware's high availability vSphere environment residing on multiple redundant SANs with redundant switch fabric. The facility features low-latency IP connections through three or more providers and the entire network is standardized on Enterprise Cisco routers and switches. iland guarantees that its network and infrastructure will be available 99.99%.
Maximum Security.
All clients have dedicated Plone hosting behind Cisco (ASA 5500) firewalls with VPN access into their own dedicated VLAN. The facility has 24×7 onsite security staffing with surveillance and access control. In addition, it is SAS 70 Type II certified, exceeding the stringent standards for security and operations that Sarbanes-Oxley, HIPAA, Gramm-Leach-Bliley and other regulations require.
A Complete Solution.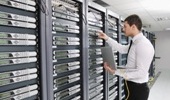 Systems administration is included in all Enfold Plone hosting solutions. We use ZENOSS to perpetually monitor server performance and enable timely issue response to ensure high availability hosting at both the hardware and software layers. All solutions include:
Operating System; monitoring, diagnostics, upgrades and maintenance
Web Server Applications; monitoring, diagnostics, upgrades and maintenance
Log monitoring and stress tests for performance diagnostics and benchmarking
---
Plone Hosting with Application Support
As an available option, have guaranteed response from a professional support team highly experienced with Plone, Zope and Python. Our Application Support services combine with your hosted system to create a worry free Plone CMS. Learn more about our Service Level Agreements or request a quote for a bundled discount.
We're here to help
Call Enfold: (713) 942-2377
Plone SaaS
Free and fee-based cloud hosting for Plone in a worry-free, scalable, production environment. 
Learn More or Try now!
Testimonials

Enfold adds valuable features to the open-source Plone product, and it's definitely a worthwhile investment. Your support staff has always been very responsive with our needs and questions. You went above your call of duty to help us.
Aleksandr Vladimirskiy, University of California, Berkeley
---
The greatest part has been the support. Any question I've had has been answered within minutes. Enfold Systems offers support like no other software vendor I've worked with in my 27 years of professional experience.
Chris Calloway, SouthEast Atlantic Coastal Ocean Observing System