Send this page to someone
Fill in the email address of your friend, and we will send an email that contains a link to this page.
We're here to help
Call Enfold: (713) 942-2377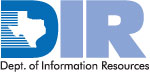 DBITS Contract
Information
How to Buy
Texas DIR requires two items to be completed before work can begin:
Statement of Work (SOW)
Purchase Order (PO)
Please contact one of our DBITS representatives or call 713-942-2377 and they will work with you to complete the SOW. Once the SOW is completed and executed, you can request a PO from your purchasing department to be submitted to Enfold Systems. As soon as we receive the PO, we will begin work on your project.